HI-TARGET - HD8200X Integrated Intelligent Static GPS

HD8200X integrated intellience static GPS is the new generation of Hi-Target GPS Surveying system based on 10 years static technology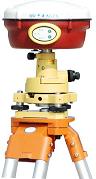 accumulation and up to thousands of customers application experience. HD8200X is featured with outstanding appearance, exquisite innovation technology and powerful function.

Entirely integrated design: With built in key components, highly sealed, waterproof, dustproof, quakeproof. Mainframe chip adopts ARM7 structure of 32 processors.

Intelligent vocal technology: Initially adopted in surveying field, vocally indicated operation & status, realizing man-machine dialogue.

Mass memory technology: 64M memory, U disc memory technology, directly tows and downloads data.

The project document management: System adopts project data document pattern, greatly lenthen FLASH service life via writing balance technology.

Concise operation: Essential parameters such as satellite number, sampling interval and mask angle can be set in the panel directlly.


System parameter


Specification

Parameter

Physical parameter

Horizontal: ± (5mm+1x10-6D)
Mainboard: Parallel 12 channels +L1 C/A
Mainframe: 600g
Vertical: ± (5mm+1x10-6D)
Epoch interval: 1S-60S adjustable
Dimension: Φ19cm X 10 cm
Working distance: =50 TD km<>
Satellite Mask Angle: 0o-60o adjustable
Working environment: -40oC ~ 70oC
Accessory
Main Power Loss: 1.36W
Storage environment: -50oC ~ 80oC
Waterproof, Dustproof
Software: HD-2003 Data Processing
Data Communications: USB/RS-232
Power System
Function: Baseline Processing, Network
adjustment, Height Fitting, Report
Data Storage
Battery: Double Lithium Batteries
Compatibility: Baseline combined solution,
Combined Surveying & Calculation with
Different Brand Instrument
Memory: 64M
Voltage: 7.2V
Memory media: Flash EPROM
Working time: 16 hrs
Power Failure Protection: 10 years
Charging time: <4 hrs

Accessories
HD8200X Integrated Main Body:
Highly integrated Design with all key components Built-in, PVC Crust, Fall-proof from 2 meters high

Professional Lithium Power system:
Built-in double lithium batteries, uninterrupted charging, large capacity supporting, 16 hrs working

High speed USB communication port:
64M large capacity flash memory, 160 hrs data collection continuously
USB communication port, U Disc static file data download

Intelligent verbal indication:
Verbal intelligent technology, verbal indiacate operation & status, Guide to know the working status clearly.

GPS Post Processing s/w:
Professional Post processing s/w, user friendly to have man-machine conversation, detailed report output
Post difference data solution function

Professional Water-Proof design:
Professional water-proof design, floatable


Application
Widely utilizes to construction application scope in control survey, Area survey, GIS Data acquisition & distortion survey. Post difference function is especially appropriate to long distance range GIS data acquisiton work pattern.